Blueground Global
A homely feeling in rental apartments
A quite unique setup. A feeling of homeliness in rental apartments all over the world that can be yours within a day and for as long as you would like. Blueground has eliminated the difficulties of moving and created homes that are ready to live in with furniture from SOFACOMPANY.
Location: San Francisco, Seattle, New York, Los Angeles,
Washington DC, Chicago, Boston, London, Paris, Istanbul, Athens, Dubai
Project completed: 2020 | Category: Rental apartments | Areas: Living rooms

"Our collaboration with SOFACOMPANY makes a huge impact in our apartments, in terms of design aesthetics, quality and comfort. We really do enjoy working together."
Arzu Eralp, Head of Product Design at Blueground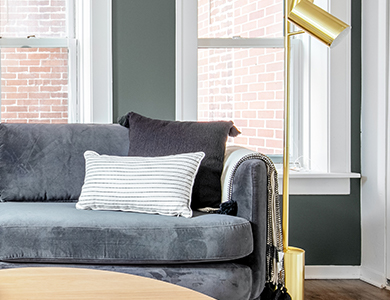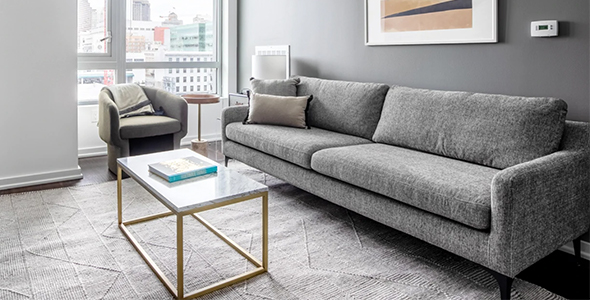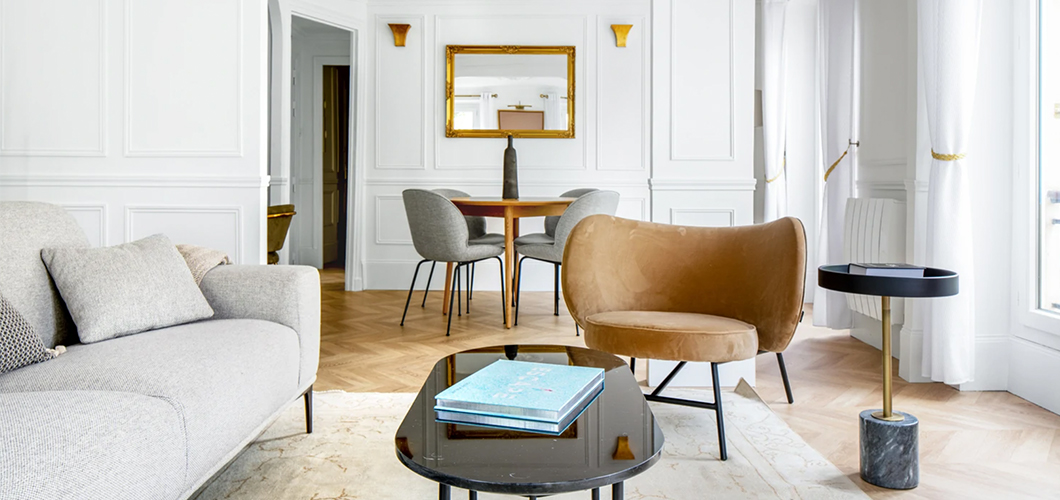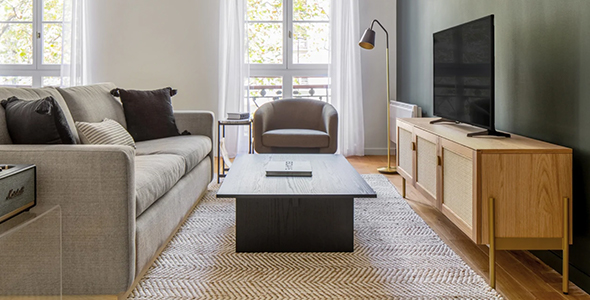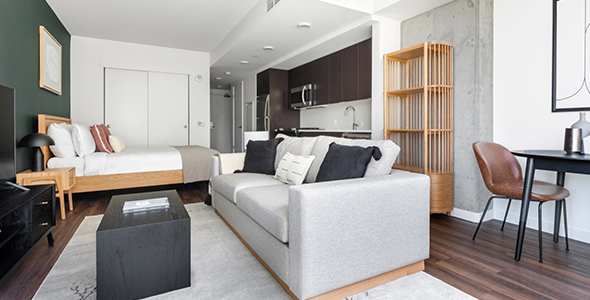 Surveys show that it can take up to 8 weeks or more to find, furnish and set up a new place to call home, but in more than 3000 rental apartments in 12 cities around the world, Blueground has made it possible for people to start living within a day. Blueground has a team of real estate experts, designers, engineers, travelers, operations specialists, hospitality professionals and locals with a vision of making people feel at home wherever they choose to live.
But how do you make rental apartments feel like homes? You team up with SOFACOMPANY. Arzu Eralp is Head of Product Design at Blueground and she explains why they chose SOFACOMPANY:
"SOFACOMPANY is one of our major suppliers for upholstered furniture and we did a great collaboration in such a short time. We also enjoyed that SOFACOMPANY too prioritized design alongside quality and durability," she says.
In the infancy of the partnership, SOFACOMPANY invited Blueground to their factory in Vietnam to show them where and how the furniture is made.
"SOFACOMPANY's high quality production facility in Vietnam is quite impressive; all the details and diligence through the production process have been remarkable. Our visit to the production facility was a solid start," Arzu Eralp tells.
SOFACOMPANY has furnished the living rooms in collaboration with Blueground, and now they are planning to expand the selection to bedrooms as well.
Here some of the pieces choosen by Blueground
Looking for assistance to

your next project?

Contact us for information about custom-made furniture designs, choice of materials, prices, samples and counseling.


Find your contact here
See more cases here
From cosy hotel rooms with the perfect loungy feeling to stylish professional workspaces, restaurants and bars. We've done it all.
---
Blueground & SOFACOMPANY make rental apartments feel like homes
Together with Blueground Global, SOFACOMPANY helped furnish rental apartments all over the world, creating the feeling and aesthetics of true homeliness from day one for new tenants.
Strandlodsvej 442300 København S

Mon-Fri: 11:00-18:00

Sat-Sun: 10:00-16:00

+45 71 99 54 99

info-dk@sofacompany.com

## 55.664320 ## 12.622251

Søren Frichs Vej 50 8230 Åbyhøj

Mon-Fri: 11:00-18:00

Sat-Sun: 10:00-16:00

+45 71 99 54 99

info-dk@sofacompany.com

## 56.151366 ## 10.170252

Wichmandsgade 1 5000 Odense C

Mon-Fri: 11:00-18:00

Sat-Sun: 10:00-16:00

+45 71 99 54 99

info-dk@sofacompany.com

## 55.403682 ## 10.376070

'Selandia Park 14100 Ringsted

Mon-Fri: 11:00-18:00

Sat-Sun: 10:00-16:00

+45 71 99 54 99

info-dk@sofacompany.com

## 55.435236 ## 11.803978

Spinnerivägen 1 448 50 Tollered

Mon-Fri: 11:00-18:00

Sat-Sun: 10:00-16:00

+46 010 176 87 00

info-se@sofacompany.com

## 57.819571 ## 12.417223

Roslagsgatan 15 113 55 Stockholm

Mon-Fri: 11:00-18:00

Sat-Sun: 10:00-16:00

+46 010 176 87 00

info-se@sofacompany.com

## 59.346616 ## 18.059385

Leif Tronstadsplass 71337 Sandvika

Mon-Fri: 11:00-19:00

Sat-Sun: 11:00-16:00

+47 51 88 20 00

info-no@sofacompany.com

## 59.893530 ## 10.523792

Madlakrossen 23 4042 Hafrsfjord

Mon-Fri: 11:00-19:00

Sat-Sun: 11:00-16:00

+47 51 88 20 00

info-no@sofacompany.com

## 58.951542 ## 5.676374

Bassengbakken 17042 Trondheim

Mon-Fri: 11:00-19:00

Sat-Sun: 11:00-16:00

+47 51 88 20 00

info-no@sofacompany.com

## 63.435955 ## 10.416111

Foreningsgaten 3 5015 Bergen'

Mon-Fri: 11:00-19:00

Sat-Sun: 11:00-16:00

+47 51 88 20 00

info-no@sofacompany.com

## 60.390314 ## 5.323530

Gele Rijders Plein 136811 AN Arnhem

Mon: 13:00-17:00

Tue-Fri: 10:00-18:00

Sat: 10:00-17:00

Sun: 12:00-17:00

+31 85 876 93 89

info-nl@sofacompany.com

## 51.983199 ## 5.908822

Stadhouderskade 1151073 AX Amsterdam

Mon: 13:00-17:00

Tue-Fri: 10:00-17:00

Sat: 10:00-17:00

Sun: 12:00-17:00

+31 85 876 93 89

info-nl@sofacompany.com

## 52.357531 ## 4.898284

Coolsingel 793012 AE Rotterdam

Mon-Tue: Closed

Wed-Sat: 10:00-17:30

Sun:12:00-17:00

+31 85 876 93 89

info-nl@sofacompany.com

## 51.921738 ## 4.478590

Mechelsesteenweg 6 2000 Antwerpen

Mon: 13:00-18:00

Tue-Fri: 11:00-18:00

Sat: 11:00-17:00

Every first Sunday of the month: 11:00-17:00

+32 38 08 19 88

be-info@sofacompany.com

## 51.211889 ## 4.407233

Leipziger Str. 63 10117 Berlin

Mon-Sat: 10:00-20:00

+49 30 4036305-30

info-de@sofacompany.com

## 52.511102 ## 13.394030

Sonnenstrasse 22, 80331 München

Mon-Sat: 10:00-19:00

+49 30 4036305-30

info-de@sofacompany.com

## 48.135759 ## 11.564626

Colonnaden 15 / Gänsemarktpassagen 20354 Hamburg

Mon-Sat: 10:00-19:00

+49 30 4036305-30

info-de@sofacompany.com

## 53.555617 ## 9.990383

Hohenstaufenring 42 50672 Köln

Mon-Sat: 10:00-20:00

Sun: 13:00-17:00

+49 30 4036305-30

info-de@sofacompany.com

## 50.932133 ## 6.940712

Laupenstrasse 10 3008 Bern

Mon-Fri: 10:00-19:00

Sat: 9:00-17:00

+41 43 508 61 03

info-ch@sofacompany.com

## 46.947453 ## 7.436167

Räffelstrasse 26 8045 Zürich

Mon-Sat: 10:00-19:00

+41 43 508 61 03

info-ch@sofacompany.com

## 47.363641 ## 8.512522

Khu dân cư Sala Tháp A1 Sarimi 74 Nguyễn Cơ Thạch, Quận 2, TP.HCM

Mon-Sun: 10:00-18:00

+84 1900 636 845

vn-info@sofacompany.com

## 10.771504 ## 106.724198

179 Buitengracht Street, Gardens Cape Town 8001

Mon-Thu: 09:00-16:00

Fri: 09:00-15:30

Sat: 09:30-13:00

+27 021 200 5904

vn-info@sofacompany.com

## -33.926132 ## 18.411581

Courtyard 8-10 Desmond StreetKramerville JHB

Mon-Thu: 09:00-16:00

Fri: 09:00-15:30

Sat: 09:30-13:00

+27 021 200 5904

vn-info@sofacompany.com

## -26.089078 ## 28.080701

4 Floors, 449 Tran Hung Dao, Cau Kho, Quan 1, TP.HCM

Mon-Fri: 09:00-18:00

(+84) 28 3838 9052

email@redweb.vn, solutions@redweb.vn

## 10.7593207 ## 106.6880524